Welcome to Berlin Parks at their beautiful best
Berlin is known for its rich history, vibrant culture, and an utterly useless airport.
Coming in to land, you notice that the city is wall-to-wall greenery. And, with more than 2,500 parks covering a total surface-area of some 6,500 hectares, Berlin has so much to offer during the beautiful autumn-fall season.
Come for a gentle stroll with die Fabrik Hostel Hotel
Here are some of the nicest parks in Berlin that are popular among locals, visitors and especially with our crew: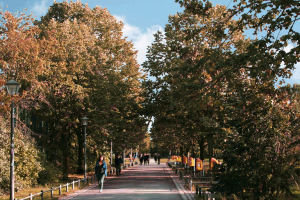 Görlitzer Park: This popular park in Kreuzberg is our local green space which is known for its unique atmosphere and multicultural surroundings. It is one of the biggest parks and recreational areas in Kreuzberg, covering an area of 14 hectares, and it's a super spot for picnics, barbecues, and people-watching.
Görli, as it is known locally, has a petting zoo, several sports and football fields, and a small lake, together with a black-light minigolf business which is a great place to while away an hour or three.
The park was established in the late 1980s and early 1990s after the clearance of the derelict railway tracks of the old Görlitzer Bahnhof. In recent times, however, Görli has also been associated with drug dealing and other criminal activities, so it's advisable to be cautious and aware of your surroundings. Also, we're not being judgemental, but scoring park deals a mug's game; you are as likely to get ripped off or robbed as you are to get high. Recommendation: give it a miss!
Tummy Tip
The autumn-fall season brings a wealth of snacking highlights to Berlin. Game sausages ("wild Bratwurst") are a special treat, as are open-air roasted chestnuts – they're to die for!
That said, it is nowhere near as scary as some of our newspapers would have you believe. Grab a coffee or a bottle of beer, and enjoy the single, tree-lined avenue from one end to the other. The riot of colour in the autumn-fall is unforgettable!
Fun-fact; the "bomb crater" isn't really a WWII relic. It's merely the now green scar of where a pedestrian tunnel used to be.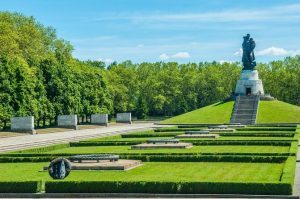 Treptower Park: Situated along the western banks of the river Spree, the 88 hectare Treptower Park is cherished for its vast open spaces, picturesque gardens, and the stunning architecture of the Soviet War Memorial together with the Archenhold-Sternwarte planetarium.
Just a brisk walk (or a short trip on the M43 or 265 bus) from die Fabrik Hostel Hotel, it's an ideal place to take a Sunday stroll and enjoy the fall foliage.
Moreover, the shore at the pleasure cruise harbour has a perfectly serviceable selection of cafés and snackeries plus, just to the south and for something more substantial, there is the huge Zenner Biergarten und Weingarten restaurant which also serves handmade ice cream in a cool, 1950s-style ice cream parlour with seating for a view of the Spree.
Fun-fact; the disused fairground at the south end of the park is one of the creepiest places in the whole of Berlin. However, don't try to break in through the fence; the ghosts won't get you, but the security guards will.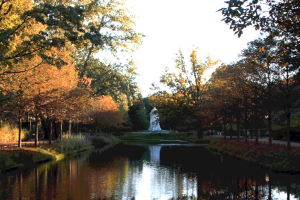 Tiergarten: Located with the Brandenburg Gate at one end and the chic borough of Charlottenburg at the other, Tiergarten is probably the city's most famous park and, with some 210 hectares, it is certainly the largest.
It is a sprawling green space with picturesque paths, imposing avenues, and beautifully tended gardens, making it an ideal place for a leisurely stroll or a peaceful picnic. It's known for its numerous monuments, including the world-famous Siege Säule at the very centre.
Not surprisingly, there is something for everyone in the Tiergarten and every Berliner will always have their favourite spot. Ours is a late lunch at the Schleusenkrug beer garden, situated just inside the far west boundaries of the park – fairly-priced schnitzel, bratwurst and other popular local dishes in a casual setting, and just a few meters' walk from the Rosa Luxemburg memorial.
Fun-fact; Also at the west end and opposite the Burger King is the Gaslaternen-Freilichtmuseum, an open-air exhibition of lamp-posts through the ages.
Other Berlin parks are also well worth a visit
Volkspark Friedrichshain: The Volkspark is one of the oldest public parks in Berlin, featuring beautiful walking trails, playgrounds, and even a fairy-tale fountain. The Märchenbrunnen (Fairy Tale Fountain) is a highlight for families with children.
Park am Gleisdreieck: This new greenery is located on the Kreuzberg border with the Schöneberg district, and is known for its modern design, urban feel and the nearby BRLO Brwhouse with its delicious craft beer and a decent kitchen. It's also a great place to go for a bike ride or a picnic with friends and open-air beats.
Tempelhofer Feld: This unique park in the Neukölln district of Berlin was once an airport – and a delightful one, at that – and has since been transformed into a huge open space for various recreational activities such as cycling, skating, and kite-flying. It's also a popular spot for picnics and outdoor events.
Mauerpark: Located in Prenzlauer Berg, Mauerpark is known for its lively atmosphere and its busy Sunday flea market. Visitors can enjoy live music, karaoke, and street performances. It's also surrounded by impromptu street art and graffiti. Quiet relaxation or a hangover induced snooze? Forget it!
Schlosspark Charlottenburg: If you like your gardens rather more formal, this beautiful park is situated around Charlottenburg Palace, the largest palace in Berlin. It features manicured gardens, statues, and a picturesque lake, making it a perfect place for a relaxing stroll.
These are just a few of our recommendations and all are easily walkable from die Fabrik Hostel Hotel or can be reached within around half an hour with the BVG transit system or rental bikes and scooters.
But that's not the whole story – far from it. For example, the Britzer gardens in the south or the Botanics in the south-west of the city are world-class horticultural sites. Wherever you are in the town, you'll never be more than a few minutes away from a comfortable bench and a moment to reflect upon what a wonderful city Berlin is.